Ways To Wooing a Woman Through Texts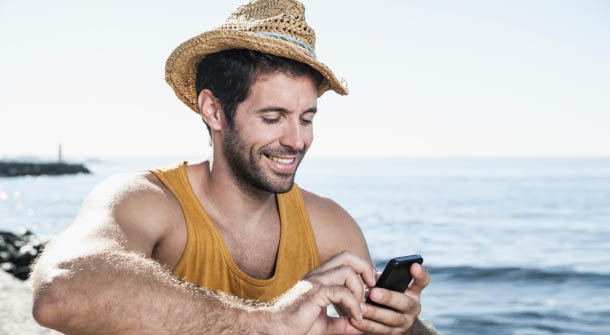 Wooing a woman through texts. Texting in recent years has become a mainstay of modern communication, taking up a large portion of how people converse in today's world. However, when it comes to texts wooing a woman isn't as easy as talking to her in person or even calling her up on the phone. You have to create a carefully created "plan of attack" to ensure that your efforts are successful. Take a look at these 6 tips on wooing a woman through texts that can help you turn your conversations into a campaign to woo her heart.
Tips on wooing a woman through texts
1. Pick the Perfect Opening Salvo
That first text can oftentimes set the tone of your conversation so it has to be a perfect balance of flirty, intentional and casual all at the same time. Keep it short and sweet while engaging her, requiring a response such as asking if she broke any hearts at work today if she works with customers. Compliment her and get her to smile, it is the first step to wooing a woman.
2. Don't Text Her at the Wrong Time
The problem with texts is the immediacy of them that can leave people feeling as if they need to respond to a text right away even if they don't have the time… so keep this from happening by choosing the right time to text her. Don't do it when she's at work, when she's out with friends or the like; you want her to be focused solely on you when she's texting otherwise your wooing efforts may not be as successful as they would be if she was alone and thinking only of you.
3. Don't Be Fake with Her: wooing a woman through texts
There is nothing a woman hates more than falling for a guy who is fake and only realizing it afterwards. Be honest when you talk to her on everything from your previous relationships to your goals, hobbies and more. The more honest you are with her the more she will fill like she truly knows you and will be willing to let you know her in return. All of your texts should embody who you are; steer clear of clichéd one liners and innuendos unless you are just looking for a booty call rather than a long term relationship.
4. Don't Make it All About Sex
Sexting is a common thing is communication between romantic partners as it can be done anywhere and at anytime, but if your goal is to woo her don't let it dominate the conversations. A few sexts here and there is fine, but set clear times when sex is the goal behind the conversation and when getting to know her and talk to her is the goal. Wooing a woman through texts
5. Make the Texts as Memorable as Possible
Because the texts are short and one-dimensional they can quickly become unmemorable compared to other interactions she might be having. You can stop this from happening by trying to evoke as much emotion and feeling as possible in the texts with things like emoticons. Sure they can be a little cheesy, but they can help to get the point across in a quick and effective way.
6. Seduce Her with Words: wooing a woman through texts
Because you aren't face to face with her you really need to brush up on your ability to describe everything in vivid detail and in romantic subtext. Using your words can seduce her in a way that helps you reach her heart and create a solid impression of your desire to be with her in a lasting way.